Better Late than Never
Hi Freedom West Friends and Residents,
The past week the City concluded the celebration of the Asian Lunar New Year with the San Francisco Annual Lunar New Year Parade. I just use this occasion to give everyone in Freedom West a belated Lunar New Year Greeting. This is especially pertinent because half of the residents in Freedom West is Asian.
For most every year I also send Christmas and New Year greetings to everybody. This year I hadn't so I use this instant to make up my slip-up. Since 2015 is a crucial, or may be even the final, year for our Freedom West's existence , we need some good luck sayings to inspire ourselves to carry us through this critical juncture.
I had been much re-missed in 2014 in informing everybody about Freedom West. I hope this is the start of which I could come out of my funk and overcome my inveterate writer's block. I hope in the coming months I could educate you, give you hopes, and to inspire you to do what is necessary to keep us together as a community and that as a result of our struggle, we can set ourselves as good examples to others as what can be possible in a very difficult situation.
It is also co-incidental that this day that I put out this blogpost, Wednesday (3/11) is a lucky day. That is because this is the third day of the week on the eleventh day of the third month of the year. As people familiar with the Chinese language know, "Three" (
三
) rhymes with "birth and being alive" (
生)
and the number eleven (
十一
) rhymes with the adverbial phrase "certainly number one"(
实一)
. That means Freedom West will come out the year not only "alive and well", but we will be "the best and number one" and our initial struggle for survival will turn out to be the "birth" of a new era. Click freedomwestdave.blogspot.com for photos and our good luck blessings.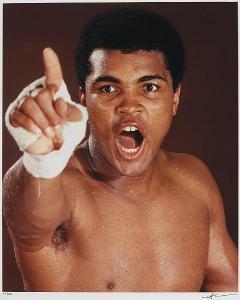 And like Ali, Freedom West will be "Number One"
GUANXI CONFERENCE
Berkeley Campus
Egghead David Tse
Last Friday I went a two-day conference in UC Berkeley attended by sociologists, anthropologists, management scientists, and behavioral economists.
I'm that kind of people who like to think about deep academic matters like energy, economic, environmental, and foreign policies, and in this instance, sociology and human behavior.
Would Freedom West people come to these conferences with me?
You can say "Guanxi" is interpersonal behavior and social networking with Chinese characteristics. I figured if I were to be able get Chinese money to help Freedom West, I better understand it better to establish "guanxi" with Chinese bankers and potential investors. The conference had gone fair and well until a good friend pulled me out of that academic funk to go back to The City so that I may establish real guanxi, or social relationships with San Francisco politicos to rescue Freedom West.
Forced Departure from my Conference back to SF
So here I was, Friday afternoon, attending a Chinese New Year celebratory event inside the California State Building.
California State Building at Golden Gate and Larkin
Foods that got me fat
Ladies in Manchu court garbs
Fiona Ma and Mrs. Qipao. I wanted Fiona in the middle, but she placed me there instead.
Phil Ting told me talk to the executive director of ChinaSF. I'd talked to her about Freedom West long time ago already. She needed us come up with a plan so that she can promote us to investors.
Assemblyman and former SF Board President, David Chiu and his parents. I met them at my church's Friday night fellowship two years ago. They live in Massachusetts, where I had my formal education.
Red will give Freedom West good lucks
The character "Fortune" over the banners of Fiona Ma, Phil Ting, and David Chiu.You can translate Phil Ting's Chinese name to be
"Standing-Right" Ting and David Chiu's as "You-Better-Believe-I-Bring-Fortunes" Chiu. I don't think they'll appreciate me bestializing their names. No more Guanxi from them now.
The Boys and Girls Club Community Center next to Freedom West, construction near completion
Hope my attending this event, draped in red for luck and fortunes, could confer the same to you and everyone else in Freedom West and to our Co-op.
Still, the next day I went back to the Berkeley Conference to establish more guanxi's
Could these professors help Freedom West?
I told this former diplomat about Freedom West
NOW COME MY LUNAR NEW YEAR GOOD LUCK CHARMS FOR FREEDOM WEST
Greetings from the Desert
Freedom West Will Receive Saudi Oil Money?
Happy Lunar New Year, Korean Style. Korean residents will be more involved.
Freedom West will soar in 2015
Even these Korean Pop stars said so. Wish us lucks in every way.
羊年行大運
Wish you great fortune for the Year of the Ram
This year Freedom West is going to have great fortune.
We will get extraordinary amount of money to renovate our community, pass our REAC inspections and get to be a superb housing cooperative.
Freedom West will be SUCCESSFUL in 2015!!
身體健康
Wish Everybody living in FW Good Health
Gong Hay Fat Choy: Congratulate Us on Our Great Fortunes
青春永駐
Stay Young Forever
Freedom West will be full of energy and vitality
生活愉快
Wish You a Delightful Life
The Chinese have their lucky 4-worded adages for the New Year that begins with the character number one to ten. We are going to use them on Freedom West.
One Sail Flows with the Wind
Freedom West will carry propitious wind in our journey.
This year will be plain sailing
二龙腾飞
Two Dragons Soar Though The Air
Freedom West I and II will fly high to show San Francisco how to get things done
三阳开泰
Three Suns (rams) Shone Magnificent
Everything starts afresh for a Freedom West Renaissance
(or three girls flying high?)
四季平安
Four Seasons of Peace and Tranquility
The Good Lord Will Keep Us Safe and Sound throughout the year
May Your Family Be Blessed
Five Fortunes Arrives at the Gate
five blessings descend upon this home (namely: longevity, wealth, health, virtue, etc.)
Six Six Smooth Running (6 6 rhymes with smooth going). That means Freedom West will do things well and runs without a hitch
It also connotes Freedom West would have no problem passing HUD REAC inspections and all kinds of tests people place upon us
Freedom West will celebrate future successes
七星高照
Seven Stars Alight in Heaven
Stars will be aligned for Freedom West Residents and Shareholders, with God guiding our ways
八面威风
Awe-inspiring all Eight Directions
No One Can Stop Us
Eight Countenances Looking Impressive: We will learn how to be a good cooperative
九面玲珑
Nine faces looking exquisite. We will be clever and nimble in establish social relationships "guanxi" with developers, HUD, the City, neighbors, and with one another.
十全十美
Perfect Ten: Everything's Perfect
Just like these girls, Freedom West will be perfect in every way